7 lessons from stupid social media mistakes workers have made
Take a look at these real-life workers who got in trouble for getting a little too click-happy before stopping to think about it.
Celebrities aren't the only ones who get notorious press for posting inappropriate — and sometimes downright offensive — posts on social media against their better judgment. (Cough, Khloe Kardashian, cough. Maybe she was trying to #breaktheinternet, too.)
Take a look at these real-life workers who got in trouble for getting a little too click-happy before stopping to think about it.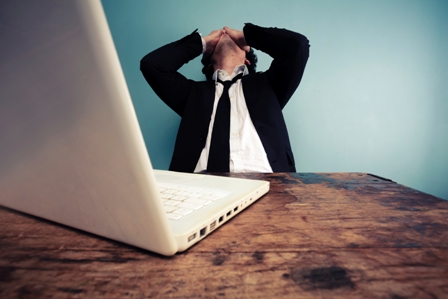 1. Don't think posts about race are funny. Just the other week, someone tweeted this beauty using the Dave & Busters official Twitter account to promote its Taco Tuesday special: "'I hate tacos' said no Juan ever." To think that this came from a someone likely trained in the do's and don'ts of social media is baffling.
Even if you think it sounds funny in your head, say it out loud — preferably to many different people at work — before posting something your gut tells you could be risky. Better yet: NEVER post anything with racial undertones or that could in any way be racially offensive.
2. No nudity or gross behavior, please. When you think food, I'd venture to guess that the last thing you'd want associated with it is nudity and/or poor hygiene. Yet somehow that's the vibe a poor misguided (now former) cook at Chili's decided to put out there by posting Facebook pictures of himself cooking while shirtless. There was also the infamous Taco Bell employee who captured himself in this compromising act at work. And the Wendy's employee who was forever freeze-framed chugging down ice-cream directly from the machine.
Unless your name is Channing Tatum and you're posting from the set of the Magic Mike sequel, please keep your shirt on while at all times while at work.
3. Sharing can make you just as guilty. This was a bizarre case of an assistant principal at a high school with a 94 percent minority enrollment who retweeted a racially offensive tweet involving mixed race couples at a school prom.
Just because you share — instead of create — such posts yourself doesn't mean you won't be held liable. Your "share" or "retweet" or even "like" may not count as an endorsement per se, but it certainly affiliates you in some way with the message.
4. Remember that you represent your employer. In what was probably one of the most notorious social media faux pas of all time, former PR executive Justine Sacco posted what she thought was a joke on Twitter just before hopping on a plane to Africa. Little did she know that when she landed on the other end, a firestorm of controversy would be awaiting her. It later became known as the "tweet heard round the world."
Even if you post to social media during off hours and from a personal account — in this case Justine's Twitter profile identified her as an employee at her (now former) company — doesn't mean you can avoid accountability. Whether you like it or not, you have a personal brand online, and that by default means that you represent or at least are affiliated with your employer, so act accordingly.
5. It's too late to backtrack once the damage is done. A (now former) CNN reporter decided it was a good idea to tweet her condolences and admiration for a notorious controversial figure upon his death. She later claimed that it was his supposed support for women's rights that she was really talking about, but guess what — the damage was already done.
It should be obvious to be very cautious about posting to social media about controversial issues, but it's tempting to assume that all your followers and friends will understand exactly what you mean. It's best to avoid posting about sensitive topics — especially if it doesn't have much context — as much as possible. If you really have to, first stop and think real hard about the impression people will walk away with.
6. Exercise caution when posting about your…err…recreational activities. We get it — it's tempting to showcase your every interesting move to friends and followers online. Instagramming all your food pictures is annoying one thing, but publicizing other, ahem, NSFW activities may not be as innocent.
Unless you're secretly auditioning to be on Celebrity Rehab, hopefully this just boils down to having common sense.
7. Don't talk smack about your employer online. A frustrating day or experience is not a good reason to broadcast online your grievances with your employer, like this woman did.
We all have bad days and experiences we'd rather forget. Granted there are ongoing developments in terms of what employers and employees are allowed to do in a legal context, but remember — literally nothing good can come of venting about it online, so just don't.
(Picture Source: Internet)
HRVietnam - Collected