If you're a frequent attendee of networking events, you've likely started to notice that the same types of people pop up at each event. Some you may enjoy getting to know, while others you try to avoid at all costs.
Before going to your next networking affair, read on to learn more about the different personalities you'll encounter and how you can prepare yourself to interact with them.
1. The Wallflower
You know those people you see at events who keep their head down, avoid eye contact and will make any excuse to leave a conversation (do they really need to take an important call)? Those are the Wallflowers, says Glen Gould, networking expert and author of "Is Your Networking Working?" and "101 Networking Nuggets." "Wallflowers come to networking events and spend most of their time hugging the wall," he says. "They rarely meet anyone new except for those in the group charged with getting Wallflowers to mingle. Once encountered by another, Wallflowers quickly leave, because they find the entire experience so uncomfortable."
There's not much you can do to engage with a Wallflower, so your best bet when encountering them is to be friendly, make them feel as at ease as possible and not get offended if they suddenly take off.
2. The Dealmaker
Fan Bi, CEO of online men's apparel company Blank Label and long-time networker, says that the Dealmaker is another personality you'll find at these events. "The Dealmaker [is] the salesperson with an agenda, whether it be a recruiter, an entrepreneur trying to close contracts or signups or the service provider," Bi says. "The best response in this situation is a friendly openness to the potential 'offers.' No need to decline anything so early on, but feel no pressure to take any action immediately either. Always take some time to think about an opportunity, to leave breathing room to make an informed decision before you close on the deal."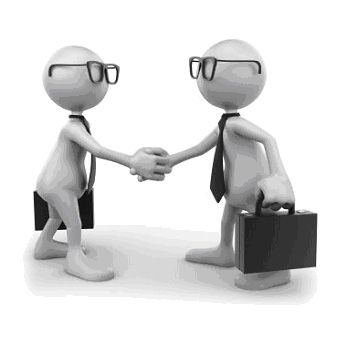 3. The Hand-shaker
While the goal of networking events is usually to make genuine connections and ultimately find business leads or employment opportunities down the road, some people favor quantity over quality. The Hand-shaker, according to Bi, is someone who goes around, passing her business card to as many people as possible, trying disingenuously to meet everyone. "Your best response: a polite introduction and, likely, that's all, because that person doesn't go beyond surface-level interaction," Bi says.
4. The Social-lite
"We call him the Social-lite, because he's heavy on the social aspect and 'lite' on the networking aspect," Gould says. "Social-lites are interactive, moving from person to person in an effort to get to know as many people in the room as possible but always spending the most time with the people they already know. This is how cliques in networking circles are formed."
He may also be the person who tends to loiter around the bar or food table, taking advantage of the "perks" that come along with such events. If you're there to have a good time, the Social-lite is your best partner in crime. However, if you want to take the event a little more seriously, you may want to steer clear.
5. The Power Networker
The Power Networker could be considered the "poster child" for what a good networker should be. They attend these events because they genuinely want to make connections and are buttoned up in their approach to networking.
"Power Networkers understand that networking events are for meeting perhaps three to five quality connections in the hopes to find a way to help them expand their network," Gould says. "The Power Networker knows that when she helps others, she helps herself. She's equipped with the Million Dollar Question: 'As I go through my day, I meet a lot of people; tell me, how will I know when I've met a perfect referral for you?' She connects with people and asks the question of most she meets. She asks for a card from each person she meets and jots notes on the backs of the business cards she receives so she can make connections of value later."
6. The Connector
You know those people who seem to know everyone at an event, and you can tell from across the room that they're confident in who they are as a professional? Those are the Connectors, according to Megan Conahan, senior vice president of digital marketing company Direct Agents. "This person likes to help others – they are the best person to find at a networking event. They have been in the space for a very long time and are confident in their business. They are attending because they need to but don't plan on doing any business today. They will listen to what you do, ask intelligent questions and introduce you to others that may be relevant."
(Picture Source: Internet)
HRVietnam - Collected