So You Want To Be An Accountant?
If you're considering a career as an accountant, you have a bright future ahead of you. Accountants help their clients organize and manage their personal or business finances, which means you'll play a key role in your clients' success.
If you're considering a career as an accountant, you have a bright future ahead of you. Accountants help their clients organize and manage their personal or business finances, which means you'll play a key role in your clients' success. Whether you're filing their taxes, balancing their books, or writing financial summaries, you possess the ability to shape their decisions.
Professional accountant and CPA Shayna Chapman owns a successful CPA firm in Gallipolis, Ohio, where she leads a team of accounting professionals. According to Chapman, it's a tough but rewarding career. She says, "If you want to be a CPA, you must be willing to put in the hours and know [that] sometimes you aren't going to sleep at night. It's not a [nine-to-five] job." However, she notes that she loves working with her clients to solve their problems and "succeed in their businesses."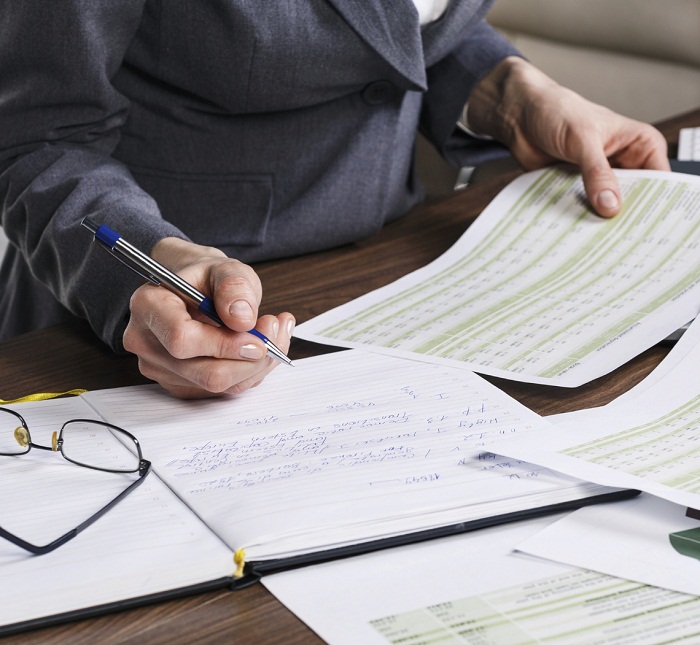 What Career Opportunities Exist for Accountants?
After you obtain your accounting degree in college, you can take your career in numerous exciting directions. Some of the possible job titles for accounting professionals include tax accountant, staff accountant, property accountant, and personal accountant. Chapman notes that "You don't have to be a practicing CPA. You can go into sales, management, accounting technology, [or] other technical careers." In fact, Chapman uses her position to counsel and mentor other professionals so they can reach their goals.
Accountants can work in multiple environments, as well. Chapman owns her own company, but you can also work for another agency or for a large corporation. Some accountants work for nonprofit organizations helping the directors maximize donations and contributions while dispersing revenue efficiently.
If you decide to take the CPA (certified public accountant) exam, you'll need 150 hours of college credit, as well as accounting and business courses. The exam requires significant preparation, so you must make time to study for the questions it will pose. Chapman reveals that the CPA exam isn't the easiest test in the world, but you can ace it if you put in the work to prepare.
What Happens During a Typical Day as an Accountant?
Your daily responsibilities will vary depending on the type of role you accept with your employer and the type of accountant you choose to become. Chapman says that, during an average week running her CPA firm, she's "checking on my team to see the status of client work and then working on financials, tax[es], or whatever problems need [to be] solved for those clients."
Depending on where you work, you might spend your days answering financial questions from other departments in your firm, attend meetings with accounting and financial professionals, explain tax options to clients, review financial statements and documents, or analyze financial data on spreadsheets. If you're a business owner, manager, or executive, you'll take responsibility for the professionals who report to you.
As for Chapman, her favorite part of her job lies in preparing and scrutinizing taxes. She says, "I love preparing taxes. Even more, I love digging into the numbers and showing my clients ways to utilize technology to make their businesses efficient and profitable." She goes on to note that she truly enjoys spending time with her clients and making sure she meets their needs. Though Chapman focuses on business clients, many accountants work with individuals who need tax and accounting assistance.
What Challenges Do Accountants Face?
Just like in every career, accounting can prove challenging on a daily basis. Sometimes the numbers simply won't cooperate when you're preparing a financial statement or helping a client out of a fiscal jam. During tax season, tax accountants often work long hours, taking their work home with them so they get all of their documents completed on time.
According to Chapman, she struggles with the changing rules, regulations, and policies regarding taxes and other financial matters. She notes, "Tax laws and accounting rules are constantly changing. Those who make [the] rules think we should know everything without our clients telling us. Our clients often think we should know things without them telling us. We CPAs do not have crystal balls and cannot read minds. We can only do our due diligence and work [with] the information given to us. It can be very challenging to make people understand your value and open up to all of the services you can provide."
She also explains that she struggles with watching clients in pain. When her customers experience difficulty with the IRS, for instance, she can serve as both a CPA and a therapist, talking them through the problem and explaining their options. When a client finds himself or herself in trouble with the IRS and other financial authorities, the penalties can prove severe, so accountants must know how to communicate effectively and compassionately.
How Should Potential Accountants Prepare for Their Careers?
Depending on the job title you want to hold, you'll have to obtain the necessary credentials to work as an accountant in the United States. According to Chapman, "To be a CPA, you need an accounting degree and enough hours of schooling to sit for and pass the CPA exam." You'll need to graduate high school and enroll in a four-year university so you can work toward your bachelor's degree in accounting.
If you're not sure whether you want to be a CPA, consider obtaining an accounting job in another area. You might work as a bookkeeper or financial advisor, for instance, so you can gain some industry experience before you undertake the CPA exam. You can also participate in an accounting internship while you're at school so you're more familiar with how an accounting office or department runs.
Switching careers from another profession to accounting can prove difficult, especially if you have to start your education over. However, accountants and auditors earn a median annual salary of $65,940. If you're looking for a more lucrative profession, accounting might fit the bill.
Just like Chapman, thousands of people become accountants every year. Since everyone needs tax and financial assistance from time to time, it's a highly secure profession with plenty of room for growth.
(Picture Source: Internet)
HRVietnam selected from our website www.Careerbuilder.com