What it's like to be a working parent in 2015
Nearly 80 Percent of Working Moms Believe They Can Have It All, But What Does That Really Mean?
A new survey from CareerBuilder explores what it means to be a full-time parent and full-time employee in today's world. Can parents truly have it all? Do they believe they can find success as a parent and as a professional? What does success really mean?
Here's a snapshot of the findings:
1.Yes, I can have it all… The notion of "having it all" is often directed toward working moms, but it's a struggle both men and women face. The good news is both sexes feel it's something they can achieve. When asked if they think they can have it all, 78 percent of working moms and 83 percent of working dads say yes.
2.But I won't always be successful. While working parents may find success in their personal and professional lives, that success may be unbalanced. Only half of working moms say they are equally successful in their jobs and as parents. Roughly one third (34 percent) of working moms report they're more successful as a parent, compared to 32 percent of men. Working dads were more likely to say they are more successful in their careers than as parents – 19 percent compared to 15 percent of women.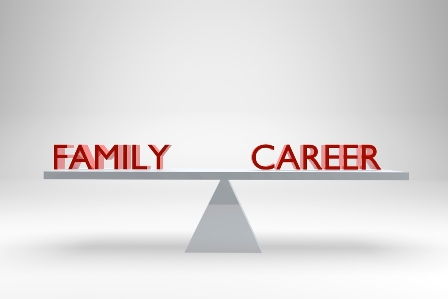 3.The definition of success. Success means different things to different people, especially when it comes to one's career, but providing for loved ones often tops the list. Eighty-two percent of working moms and 80 percent of working dads say the No. 1 factor defining success for them is the ability to provide for their families. Working moms were more likely to point to how much money they earn as a factor that defines success in their careers – 53 percent compared to 45 percent of men. At the same time, they were more likely to stress the importance of enjoying the work they do (77 percent compared to 60 percent of working dads).
4.The rise of the sole breadwinner. According to the survey, the number of working parents acting as sole financial providers is increasing. While historically men tended to be the single breadwinner of the family, that's also changing. Thirty-nine percent of working moms and 43 percent of working dads report they are the sole financial providers in their homes, up from 31 percent and 37 percent, respectively, in 2014.
5.The effects of juggling work and family. Women report spending more time with their family than men: During the typical workweek, 57 percent of working moms spend four or more hours with their children every day, and 35 percent of working dads do the same. Despite spending more quality time with their kids, working moms are nearly twice as likely as working dads to say their job has negatively impacted their relationships with their children.
6.Employers seeking parents. Sixty-nine percent of employers believe the skills gained by being a parent can qualify as relevant experience in the corporate world. The experience parents acquire that employers find most valuable include patience (67 percent), the ability to multi-task (62 percent) and time management (59 percent). If parenting experience is considered marketable, why not boast about it to employers? Nearly 1 in 10 working moms (8 percent) have included their parenting skills in their resume or cover letter.
(Picture Source: Internet)
HRVietnam selected from our website www.Careerbuilder.com