What to do when you don't get the job
We all want to land our dream job. Unfortunately, as is often the case in life, there are a lot of factors that may be out of our control.
In spin class the other day, the teacher said something that really resonated with me: "There are a lot of things in life you can't control, but do your very best at what you can." He's right.
And I try to remember that when it comes to my career—and more specifically, the job hunt. We all want to land our dream job. Unfortunately, as is often the case in life, there are a lot of factors that may be out of our control. For instance, none of us can control the number of years of experience we have or how far along a company may be in the hiring process.
I once applied to a job that I thought was my dream job. I studied the company extensively, wrote down answers to the most commonly asked interview questions, and prepared stories to show that I had each of the credentials listed in the job description. I even went above and beyond by recommending strategies they should implement, like a sorority and college ambassador program. I left the interview knowing I did well. I got along with the interviewer and she even went to get her notebook to write down the strategies I had mentioned. I wrote the thank you note, I followed up; I did it all right...and found out that I didn't get the job. She explained that she was really impressed by me, but they had already been far along in the interview process with someone else. They had already essentially made their decision before I showed up.
At the time, I was really upset, but I still sent her a nice email, thanked her for taking the time to meet with me, and said that I'd continue to check back for new openings. She said she'd love that and connected with me on LinkedIn. I kept the relationship open and showed my continued interest in the company.
Your email doesn't have to be a monologue; it can be short and simple. Write something like: "Thank you so much for giving me the opportunity to be considered for the position. I enjoyed learning more about the position and your experience at [X company]. I was so impressed by the company culture and the client work you showed me. I will continue to check for future openings. Thank you again for your time and consideration. I wish you the best of luck with the rest of the hiring process." In a lot of states, hiring managers have to keep all the resumes they receive on file for a year—hopefully, they'll remember you and reference yours again for future openings.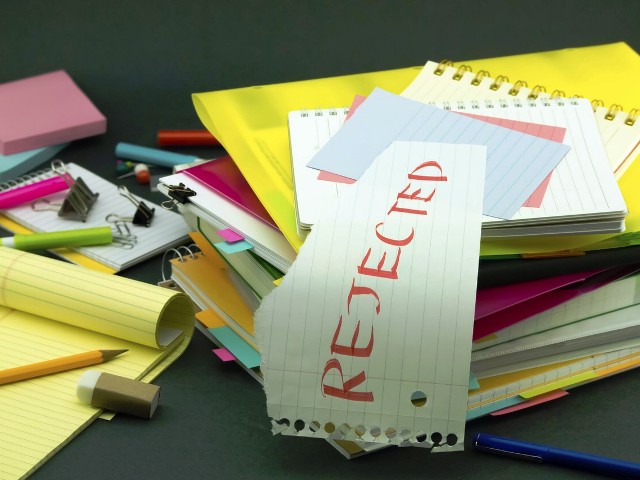 That's just one tip for when you don't get the job. Here are a few of my other recommendations:
Ask for feedback
If you've gotten through a few rounds of interviews, the team has probably had a chance to know you pretty week—so there is no harm in asking for feedback at the end of your follow-up email. There is a chance that they won't provide feedback—because it might be seen as a liability or they're short on time—but, if they do, it may be helpful as you move forward with your search. You might say: "Would you be able to share what I could have done to present myself as a better candidate for the role? I'd like to be continually improving and would be so appreciative of any feedback you can provide."
Reflect
Maybe the interview didn't go as well as you hoped, you had a glaring typo in your resume or cover letter, you could have written a better thank you note, or followed up sooner to show your interest.
Mistakes happen.
Take some time to reflect on your experience and think about what went wrong. This will allow you to make a game plan and avoid making the same mistake in the future. Think of it as a learning opportunity that will make you into an even better candidate the next time around.
Recognize when it's not a good fit
Sometimes it's not about you or anything you could have done (or done differently). One thing I learned from hiring people is that there are so many great candidates and there are also a lot of behind-the-scenes decisions that go into each hire. Sometimes the decision to not hire you truly has nothing to do with you.
If you reflect on your experience, and can't find anything that went wrong, it's possible that nothing did. There could have been someone with one more year of relevant experience or knowledge of one more computer program. Chalk it up to job hunting experience and go after the next company on your Dream Job list.
Let it go
Don't be hard on yourself, move onto the next application, and realize that the hiring process often takes time. You'll be able to focus better on the next application if you can get excited and motivated for it.
There is no doubt about it—the job search can be very stressful. Stay positive, take care of yourself, focus on continually learning and improving, and remember: There are a lot of things in life you can't control, but do your very best at what you can.
(Picture Source: Internet)
HRVietnam selected from our website www.Careerbuilder.com