10 ways to build your personal brand
Being aware of, and ultimately in control of, your personal brand is a crucial component of building a successful career.
People have always had "personal brands"—everyone who knows of famous women like Amelia Earhart, Gloria Steinem or Mother Theresa can describe who they are, what they valued and their life's mission. Although the concept is not new, the term "personal brand" has become a buzzword only recently.
So what is it, exactly? Your personal brand is how people see you; how they'd describe you—similar to how people describe famous people or companies. It is the set of values and characteristics that describe who you are and guide your choices—in work and in life. Your personal brand is what makes you, you.
Being aware of, and ultimately in control of, your personal brand is a crucial component of building a successful career. Wondering how to be proactive about building your personal brand? These tips are a great place to start:
1. Define your brand
Take out a piece of paper and write down the words and values that people would use to describe you. Be honest and choose words that are positive and authentic to who you are.
Elisabeth Kubler-Ross has said: "We think sometimes we're only drawn to the good, but we're actually drawn to the authentic. We like people who are real more than those who hide their true selves under layers of artificial niceties."
I believe that you can only be happy when you are accepted for being who you really are. So, as you consider your personal brand, strive to be the best possible version of yourself, but don't try to be someone you're not.
2. Have a specialty
Specializing in a skill that is relevant to your field—and being vocal about that—will help you stand out in the crowd. Companies call this a point of differentiation—consider how your brand (in this case, you) is different from everyone else "on the market". Why should people choose you over everyone else?
If you can't think of a skill that's your specialty, then learn one. This usually means that you have to learn on your own, but that's easier than ever before—take classes, read industry specific publications, add a passion project, and volunteer for projects that will help you develop your niche.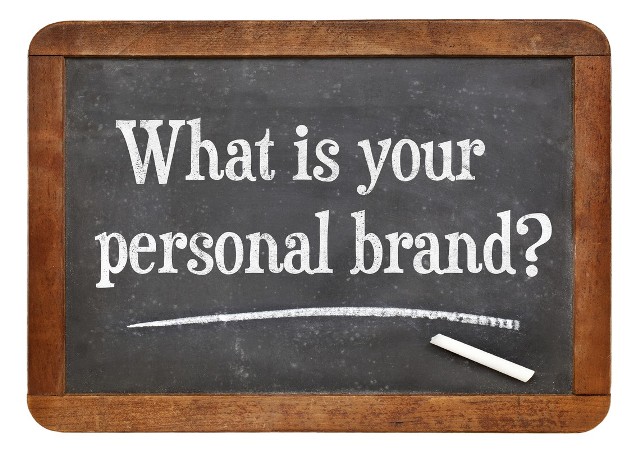 3. Write your bio
Write a short bio—or update the one you have—so you have it ready. A professional bio is a necessity for freelance writing gigs, networking events, speaking on panels and keeping your LinkedIn profile up-to-date.
Your bio might include your education, work experience, any published writing or press hits, awards you've received, volunteer work, and possibly even some of your personal interests.
4. Create a blog or personal website
When I started my blog, I never imagined that anyone other than my closest friends and family would read it. I certainly never imagined that my blog might help me get hired for new jobs—and yet, that's exactly what happened.
Blogging is a great, and often free, way to showcase your creativity and non-academic writing. Even if you don't yet have your dream job, you can write about your dream industry—whether it's fashion or the environment.
Although many people find blogging to be fun, it can also take a lot of time. If you aren't interested in blogging, you can still create a personal website, using your name as the domain name, and highlight your skills and experience there.
5. Use professional networking sites
Professional networking sites are yet another Internet home where you can promote your academic or career changes and achievements.
Speaker and strategist, Kelly Hoey, has said: "If you don't brag about your career and your achievements, who is going to do it? You need to own your expertise and you need to put it out there. If you don't own your accomplishments, someone else will. It's not bragging if you can back it up."
LinkedIn allows you to put your accomplishments out there for the world (and future employers, partners, and connections) to see. Also, if you set up a profile, it will be one of the first things that people see when they search for you online, so it's another easy way to exercise control over your digital persona.
6. Build your communication skills
Whether you're shy or outgoing, it's important to be able to communicate well—particularly about yourself—as you build your brand.
I recommend taking public speaking courses, writing courses, and simply practicing regularly. Learn how to tell your story. One way to do this is to practice both a personal and a professional "pitch."
Before networking events, I always prepare a quick summary of my personal and professional interests and experiences. It is helpful to be able to quickly and concisely explain what you do, why it is important to you and your extracurricular interests.
7. Participate on social media
Social media is a perfect—and free—platform for positively promoting your brand. You can share articles, blog posts and work-related achievements. You might also follow people in your industry and jump into relevant conversations by using trending hashtags or those that are most popular in your industry.
Just make sure that everything you post on social media is a good representation of your brand. I follow what I call the "The New York Times Test": If I wouldn't want it to end up on The New York Times, I don't post it.
8. Build your network
In order to build and share your personal brand, you need to also be building your professional network. Networking isn't just important when you are looking for a job. I've learned that you can consistently learn from other people's career paths and insights at every stage of your career.
So take advantage of the opportunities in your city and your industry to meet new people. You never know how that new connection might be of service to you—or you to them—in the future.
9. Say no
Now that you have your personal brand in place, protect it. Say no to opportunities, projects, freelance work or social media posts that are not aligned with your brand.
10. Do good work and live your values
Your work and actions speak volumes about your personal brand—and you, as an individual. You can say you hold certain values, but your actions, your experience and your words have to embody them.
(Picture Source: Internet)
HRVietnam - Collected