Common (and not-so-common) interview mistakes to avoid
EMPLOYERS SHARE THE MOST MEMORABLE MISTAKES JOB SEEKERS HAVE MADE IN INTERVIEWS
Sometimes it can be difficult to know what is and isn't acceptable behavior in a job interview. Other times it should be glaringly obvious that a certain behavior or action is off limits. Yet that hasn't stopped some job seekers from making these out-there mistakes anyway.
According to a recent CareerBuilder survey, some of the most ridiculous things employers report seeing job seekers do during the interview process include:
Candidate took a family photo off of interviewer's desk and put it into her purse.
Candidate started screaming that the interview was taking too long.
Candidate said her main job was being a psychic/medium and tried to read interviewer's palm, despite interviewer's attempts to decline the offer.
When asked what her ideal job was, candidate said "painter of birdhouses." (Company was hiring for a data entry clerk.)
Candidate sang her responses to questions.
Candidate put lotion on her feet during the interview.
When asked why he wanted the position, candidate replied, "My wife wants me to get a job."
Candidate started feeling interviewer's chest to find a heartbeat so they could "connect heart to heart."
Candidate had a pet bird in his shirt.
Candidate took phone interview in the bathroom – and flushed.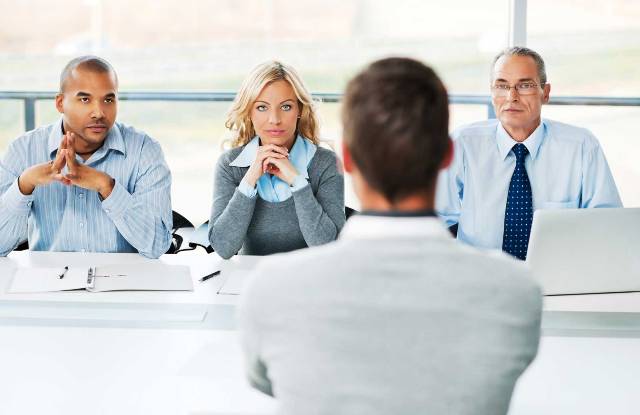 Watch your body language
It's relatively easy to avoid making the types of mistakes that land you in an article like this. But that doesn't mean you're not missing out on a great job opportunity because of your behavior in the interview.
In fact, some of the most common interview mistakes made by job seekers are ones they may not even be aware of – body language mistakes. When asked to identify the biggest body language mistakes job seekers make, hiring managers named the following:
1.Failing to make eye contact: 67 percent
2.Failing to smile: 39 percent
3.Playing with something on the table: 33 percent
4.Having bad posture: 30 percent
5.Fidgeting too much in their seats: 30 percent
6.Crossing their arms over their chests: 29 percent
7.Playing with their hair or touching their faces: 27 percent
8.Having a weak handshake: 21 percent
9.Using too many hand gestures: 11 percent
10. Having a handshake that was too strong: 7 percent
How to ruin an interview
Interviewers know that job seekers are under pressure and most are willing to overlook one or two minor mistakes made by a well-qualified candidate. However, there are some relatively common errors that employers consider instant deal breakers. These include:
1.Candidate is caught lying about something: 69 percent
2.Candidate answers a cellphone or text during the interview: 68 percent
3.Candidate appears arrogant or entitled: 60 percent
4.Candidate dresses inappropriately: 50 percent
5.Candidate swears: 50 percent
The opposite of mistakes
It's clear that there are a lot of things you shouldn't do in an interview, but what about things you should do? Above all else, good preparation is the key to a successful interview.
"Preparing for an interview takes a lot more than Googling answers to common interview questions," says Rosemary Haefner, chief human resources officer for CareerBuilder. "Candidates have to make a great first impression appearance-wise, have a solid understanding of the target company, know exactly how to convey that they're the perfect fit for the job and control their body language."
In order to properly prepare, Haefner recommends the following:
Do your research. Research the company before the interview and learn as much as possible about its services, products, customers and competition. That will give you an edge in understanding and addressing the company's needs.
Interview yourself for the position.Before the interview, ask yourself: "Why am I a good fit for this job?" Then practice answering typical interview questions with a friend, colleague or coach. According to the CareerBuilder survey, the most common questions include:
Tell me about yourself: 55 percent
Why do you want this job?: 50 percent
Why did you leave your last job?: 50 percent
What is your greatest strength and greatest weakness?: 49 percent
Describe a difficult work situation and how you overcame it: 48 percent
Be positive.Plan to answer all questions positively and with enthusiasm. Never say anything negative about your prior employers or bosses, no matter how bad the situation may have been.
(Picture Source: Internet)
HRVietnam selected from our website www.Careerbuilder.com