How much does temperature affect your productivity?
DISTRACTED BY AN OFFICE THAT IS ALWAYS TOO HOT OR ALWAYS TOO COLD? YOU AREN'T ALONE. THE MAJORITY OF WORKERS FEEL THAT OFFICE TEMPERATURE CAN AFFECT THEIR ABILITY TO WORK EFFECTIVELY.
Many of us are no stranger to workplace conflict. From miscommunication to clashing management styles to whether to order Panera Bread or Au Bon Pain for today's lunch meeting, conflict can come from almost anywhere. Even, it seems, from the office thermostat.
According to a new CareerBuilder survey, the office temperature is the source of some (ahem)heated debate among workers across the country. One in 5 workers (20 percent) have argued with a co-worker about the office temperature being either too hot or too cold, and 18 percent have secretly changed the temperature during the winter (sneaky!).
The struggle is real
Fighting over the number on the thermostat may seem like a petty office squabble, but the majority of workers feel that office temperature can affect their ability to work effectively. According to the survey:
53 percent of employees say they are less productive when working in an office that is too cold.
71 percent say they are less productive when working in an office that is too warm.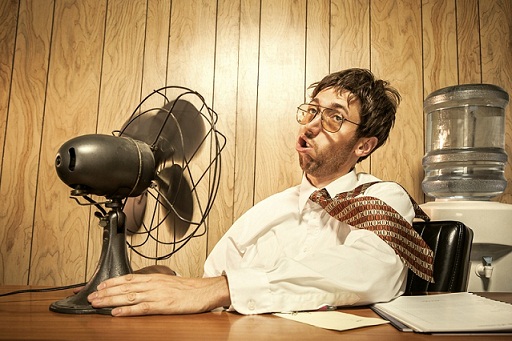 Keeping your cool in extreme temps
Just like the world may never agree on whether or not Adele is overrated, you and your co-workers may never find a resolution to the office temperature conflict. In that case, take action with the following tips, and create a working environment that is neither too hot nor too cold, but juuuust right.
DIY: Take a cue from other workers across the country who cope with colder office temperatures (according to the survey) by doing the following:
Dressing in layers: 44 percent
Drinking hot beverages: 36 percent
Wearing a jacket all day: 31 percent
Wearing a heavy sweater: 27 percent
Using a space heater: 15 percent
Using a blanket: 7 percent
Agree to this degree: As much as it might feel easier to simply change the thermostat behind your co-workers' backs, a more effective resolution might be to try talking to your co-workers about and find a compromise.
Change up your environment: It may be that, as the day goes on and office temperatures fluctuate, certain times of day make it harder to be productive. Try talking to your manager about coming in earlier, working remotely or moving to a conference room for a portion of the day.
(Picture Source: Internet)
HRVietnam selected from our website www.Careerbuilder.com