How to make the most of a work trip
ON THAT NEXT BUSINESS TRIP, REMEMBER TO WORK HARD...AND PLAY HARD.
The idea of jetting off to faraway destinations on someone else's dime may sound glamorous, but as many seasoned business travelers will attest, work-related trips can often feel like a guided tour from hell: strict schedules, sterile hotels and mediocre food—oh, and don't forget the actual work part.
But work trips don't have to be a drag. Even though you may not be able to control where you're headed or what you'll be doing while you're there, it is more than possible to satiate a bit of wanderlust while on the clock.
Trust me, if I can have a fabulous time in Boston in February (hello eight feet of snow and negative temperatures!), then anyone can make the most of a business trip.
Here's how:
Do your homework
The most effective way to reduce stress and maximize time on any trip is to plan ahead. This is especially true for business travel, when you're on a much tighter schedule and have a very limited amount of leisure time.
Prior to your departure, compile a short list of things you'd like to do, see and eat. You might discover that a famous modern art museum is just around the corner from the location of your 2 p.m. meeting. Too busy to do any real research? The Triposo app works offline and shows your location relative to dozens of dining and entertainment spots, and it also provides information on noteworthy historical areas.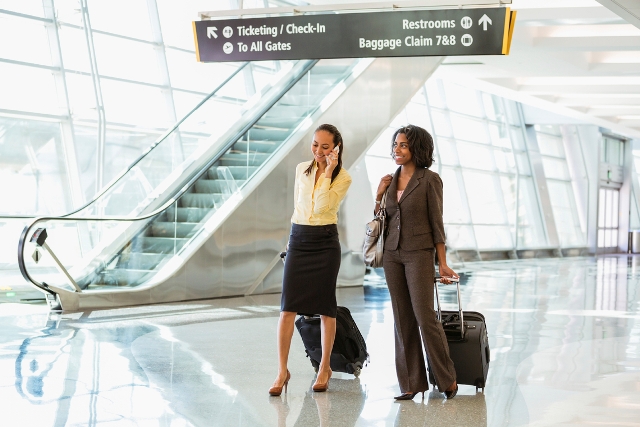 Take a weekend
A 2014 study by the Bureau of Labor Statics revealed that the U.S. is the only advanced economy that does not guarantee its employees paid time off. This, coupled with the steep cost of airline tickets, should be even more reason to seek out every opportunity to squeeze in a few extra days of leisure on a business trip.
When even one or two additional days can make the difference between boring, mandatory travel and a mini vacation that leaves you feeling refreshed, it's worth tacking a vacation day onto the weekend to get the most bang for your buck. If you're flying internationally, consider taking even more vacation days if your boss approves.
Nix the taxis
Taking taxis everywhere is the most convenient option, especially if your company is footing the bill, but there's no better way to see a new place than by pounding the pavement or taking public transport like the locals. You may just pass through a gorgeous park or quaint neighborhood on your way to a meeting that you would have otherwise overlooked riding in a cab.
Avoid room service
It might be tempting to stay cocooned in the comfort of your hotel room after a long day of rushing around, but use each meal as an opportunity for exploration instead. Just remember to be fairly conservative with what you include on an expense report. It won't look good if you're eating lavishly for every meal and trying to expense alcohol.
Get social
Exploring a new city should never be a solitary experience when there are countless websites and apps that connect people from all around the world.
If you love sharing experiences with others instead of being by your lonesome, then peruse the hundreds of Meetup.com events happening in any given location. Also, Couchsurfing.com isn't just for crashing in a stranger's apartment. The site is full of locals who just want to hang out and show off their favorite haunts to visitors.
Can't remember if you have any long-lost friends nearby? Take a look at the site Friendography.com, which uses your Facebook friends list to show you a world map dotted with everyone you know in their respective locations.
Work-related trips are all about balance. You shouldn't feel chained to your laptop 24-7, nor should you shirk responsibility so you can go sightseeing.
Remember that if you're traveling with co-workers or a supervisor, you should maintain the same professional demeanor you project in an office environment. This seems obvious, but it's surprising how many people let loose once out of the office because they fall into vacation mode (or because the conference offers an open bar).
But as long as you get your work done, meet deadlines, and return with tangible evidence of a successful trip, there's no reason why you shouldn't be able to explore and have a few adventures.
(Picture Source: Internet)
HRVietnam selected from our website www.Careerbuilder.com