Turning a part-time job into a full-time job
OLLOW THESE 5 TIPS TO GO FROM PART-TIME TO FULL-TIME.
A part-time position can be a great opportunity to gain skills and experience while offering the flexibility to tend to other responsibilities, but what happens when those responsibilities shift and you're ready to go full-time?
Here are 5 essential things you must do in order to move from part-time to full-time.
Learn the skills
Arguably the most important step in transitioning from part time to full time is to make sure you deserve the promotion. "Learning how to do your part-time job well is the first step on the path to a full-time job at your company," says Sam McIntire, founder of Deskbright, an online learning platform designed to help people succeed professionally. "Don't look at your part-time job as a temporary position; treat it as if it were the job you really want, and show your employer that you can produce high-quality output even in a low-level role. To do this, invest in the skills that your job requires and ensure that you're giving work your all every day."
Add value
Simply being competent in your position may not be enough to get you hired on full time. You'll need to stand out, and the best way to achieve this is to find a way that you can add value for the employer.
"Oftentimes, employees get stuck in part-time roles because their companies do not have a full-time position open. But being a part-time employee gives you a unique opportunity to explore the needs of the business and figure out where you can add the most value," says McIntire, founder of Deskbright, an online learning platform designed to help people succeed professionally. "If you have a good sense for how your skills could help your company succeed if you worked there on a full-time basis, you'll have a leg up against external competition, and a compelling argument for why you should be employed full-time."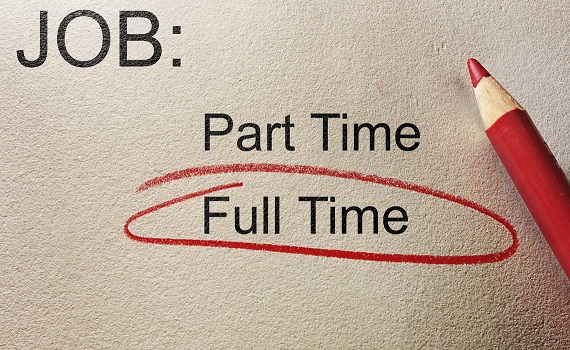 Request responsibility
What if you don't get many opportunities to go above and beyond at your part time job? Ask for them! It may be that your boss isn't aware of your desire to contribute more. The easiest and most effective way to get more opportunities at work is to make it known that you're looking for them.
"It's important to ask for opportunities. If you're always sitting there waiting for assignments to come to you or only willing to do the bare minimum required of you, you'll never prove your worth," says Paul Potratz, owner of Potratz Automotive Advertising. "You need to show them that you want the opportunity to advance, that you're not afraid of taking on more responsibilities, and that you're excited about the chance to grow with the company."
Talk to your boss
If transitioning to a full-time position is a serious goal for you, make sure your boss is aware of it. Your boss isn't a mind reader, and even if you've requested more responsibility and proven yourself capable, they may still need to be told that you're hoping to start working full time.
"Once you have been putting in the action and proving you can handle the added responsibility, make sure your boss knows that going full time is something you want," says Rachel Ritlop, millennial career and business coach. "This is especially important if you could only work part-time when you started, your boss may not know your stance has changed."
Network
While talking to the boss is important, you should also make a point to ingratiate yourself with the rest of the team as well. There's a good chance the boss will consult other employees before making the decision to bring you on full time, and it never hurts to have friends in your corner.
"When you add value not just to your immediate boss but to your co-workers as well, they become your cheerleaders! They will be empowered to vouch for you and help convince your employer to bring you on full-time," says career success coach and leadership development consultant Gia Ganesh, MSIS, MBA.
Making the leap from part-time to full-time may seem daunting, but the fact that you're already familiar with the company and the people involved gives you a serious advantage. Be assertive, put in the extra effort, and before you know it you'll be on the full-time payroll.
(Picture Source: Internet)
HRVietnam selected from our website www.Careerbuilder.com